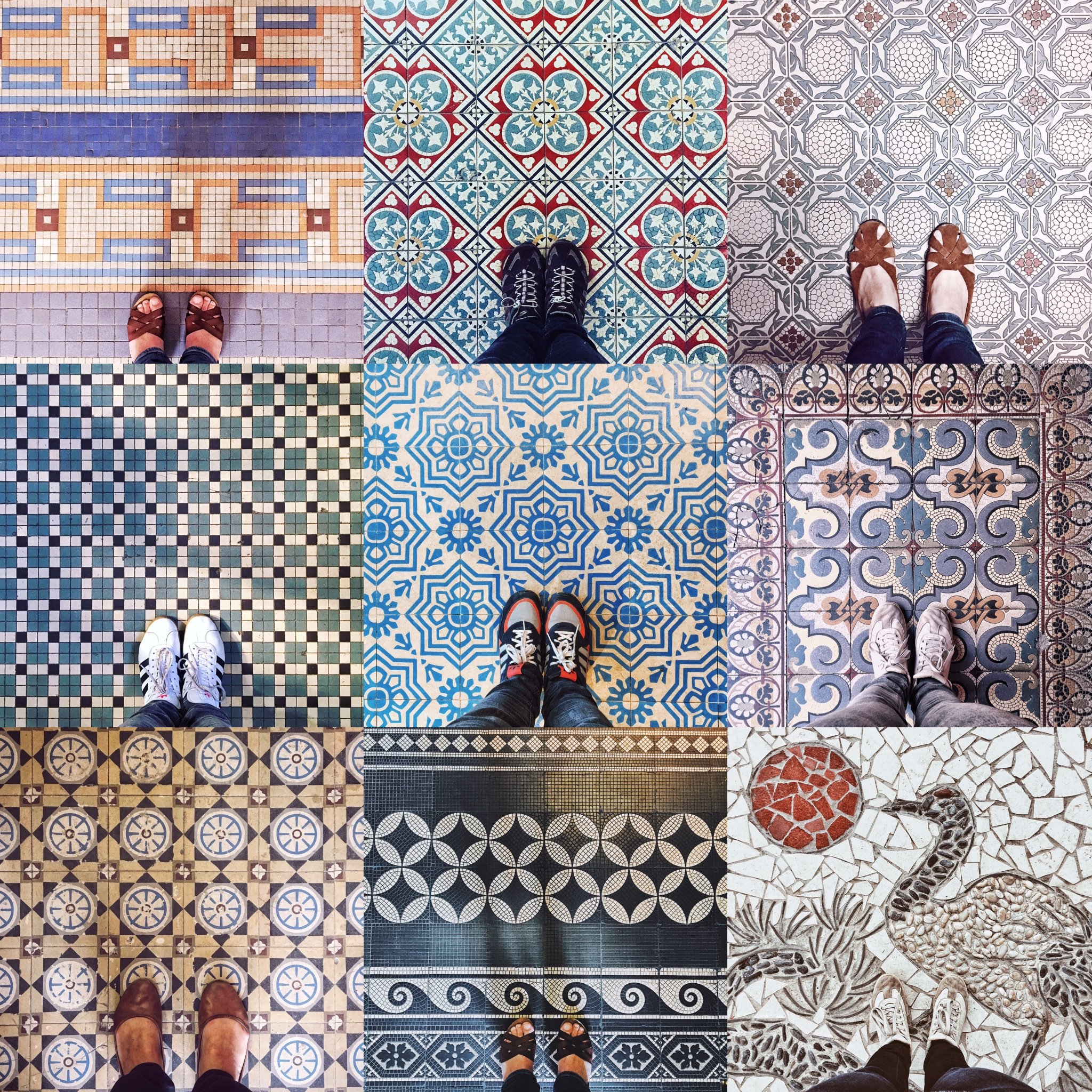 Beautiful Floors In Hamburg & The Locations They Belong To
Part 1 Is it possible to explore a city by means of floors? Why not! The Dutch Instagram account "I have this thing with floors" gave me the idea of photographing beautiful floors in Hamburg. Ever since I lower my gaze – always on the hunt for lovely tile patterns. And indeed: behind many floors there is a great place where you can eat, drink or simply find an interesting story about this city.
TEXT & FOTOS   SUSANNE KRIEG
---
Wine Tavern Zur Traube

These tiles belong to Hamburg's oldest wine tavern. Since 1880 it has been hiding in the winding alleys of Ottensen. I don't know if the tiles are still original. In any case, it is the wall panelling on the inside, as well as the wooden figures at the counter that founder Emil Peters carved himself, including a baker, an executioner and night watchmen. There are also fine wines – 250 bottles and 50 open wines! Plus delicious food (the chef is French!). When it gets dark, the giant grapes above the entrance light up your way home.
→  Zur Traube, Karl-Theodor-Strasse 4, 22765 Hamburg-Ottensen / map & Website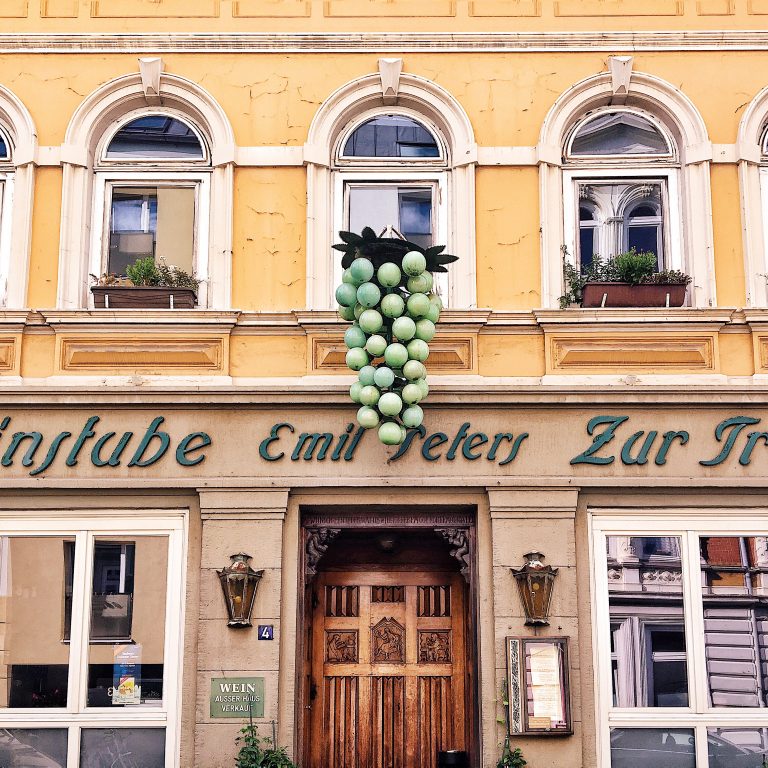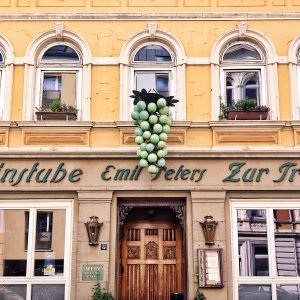 ---
Old Elbe Tunnel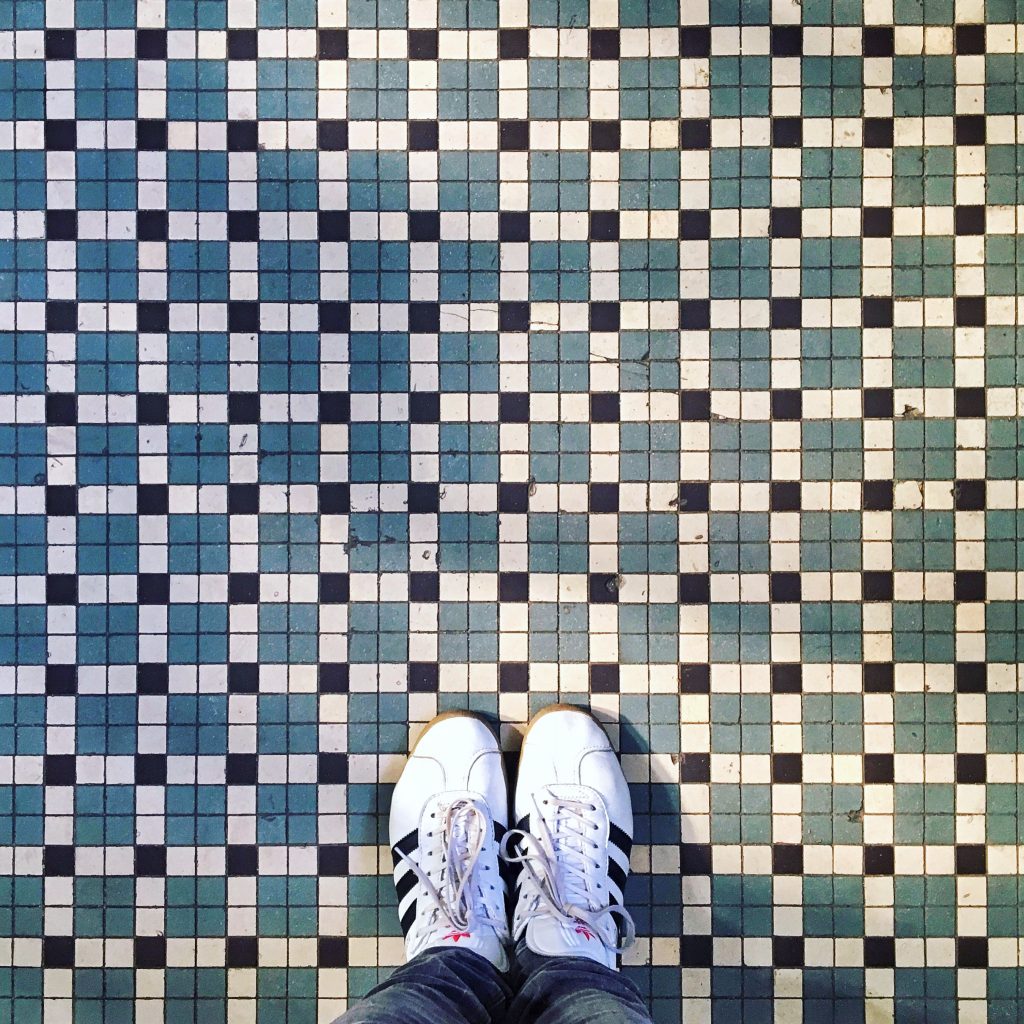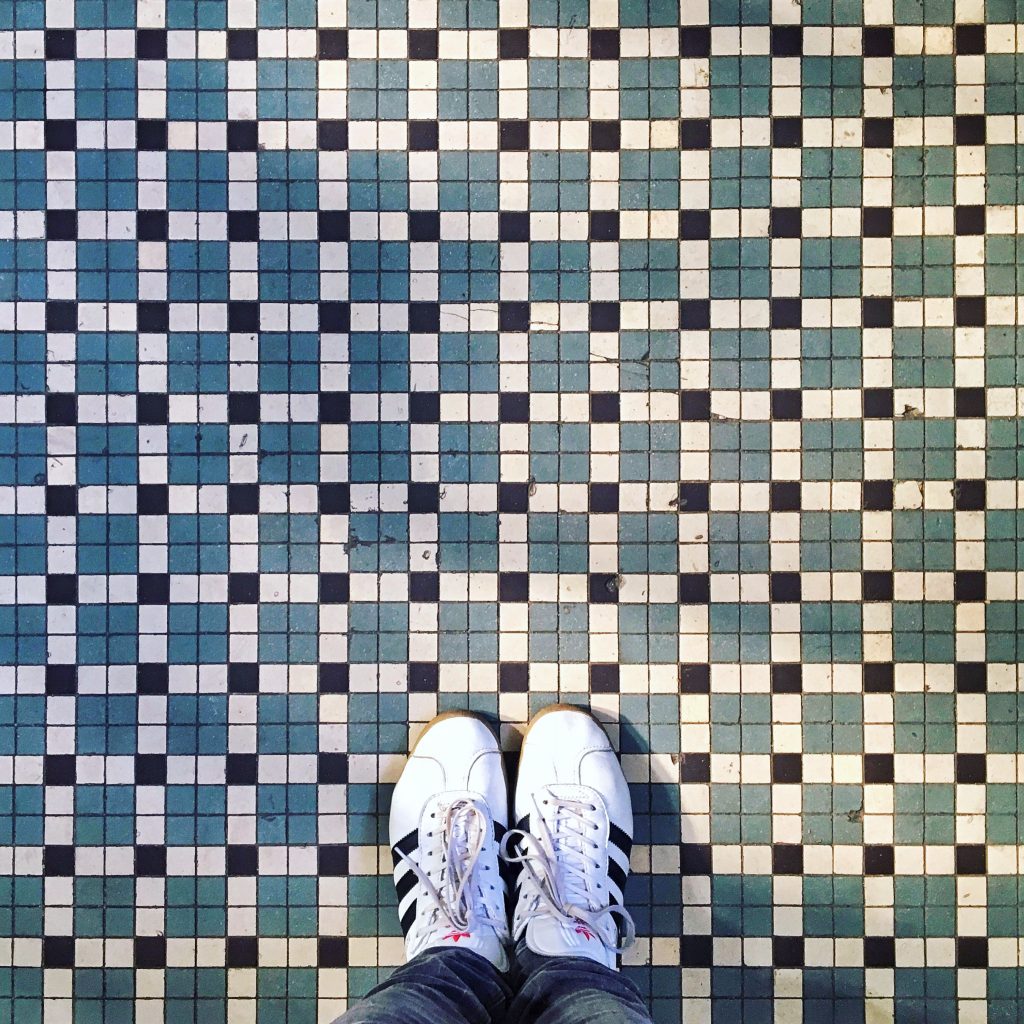 Anyone who walks through the old Elbe tunnel, which was opened in 1911, should definitely pay attention to the tiles at the entrance. Historical ceramic art is also hanging deep below the Elbe, in the 426-metre-long tube: 14 animal depictions on large wall tiles, arranged approximately every seven to eight metres. Hard to believe, but what you see, was living in the water of the Elbe 100 years ago: e. g. seals, lobsters, eels and sturgeons…    
→ Bei den St. Pauli-Landungsbrücken 5, 20359 Hamburg / map & Website on the construction of the Tunnel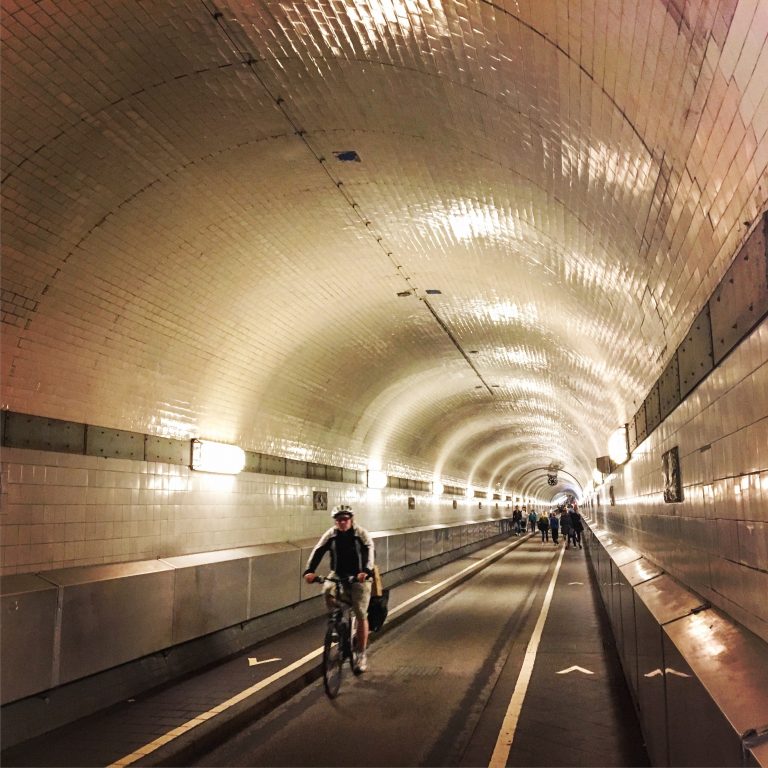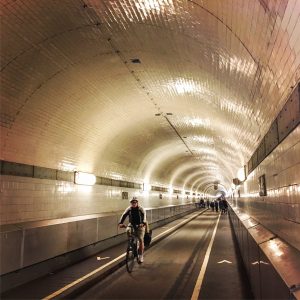 ---
The Colonial Goods Shop


The Deichstraße, where you will find this floor, belongs to one of the oldest areas of Hamburg. You can stand on these tiles by going to the small "Kolonialwarenladen", which can be found here under house number 45. Of course there are no colonial goods in the shop any more, but you get coffee, chocolate and delicious cakes. The owner also collects old tin cans which he displays on his shelves. And if you ask him nicely, he might even tell you something about one or two of them. In my previous post you will find another interesting building from Deichstraße!
→  Deichstraße 45, 20459 Hamburg / map & Website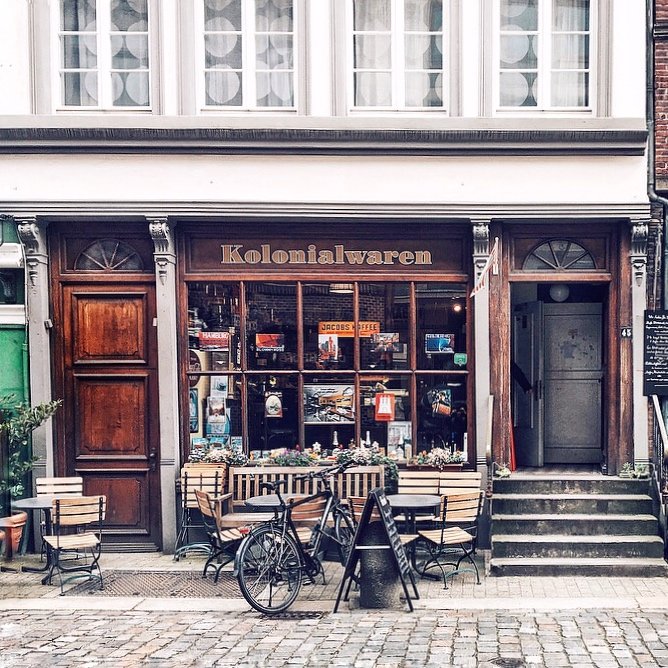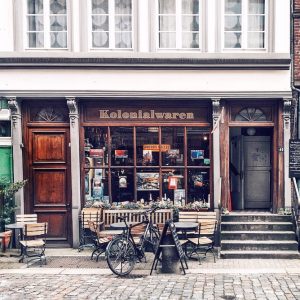 ---
Die Bank, Brasserie & Bar


Steak frites, bovine tartar, saltimbocca of the black feathered partridge: this is what awaits those who enter the "Bank" through the hall way containing this dream of a black-and-white mosaic. But, be careful, you don't meet at the "bank" for lunch, but for a "counter break". No wonder that this establishment in a former cashier's hall in a commercial metropolis like Hamburg has become an institution. Discretion & pinstriped suits predominate here – a wonderful cliché! Slightly expensive, but perhaps worth a cocktail trip in the evening. Google-Walk? This way!
→  Hohe Bleichen 17, 20354 Hamburg / map & Website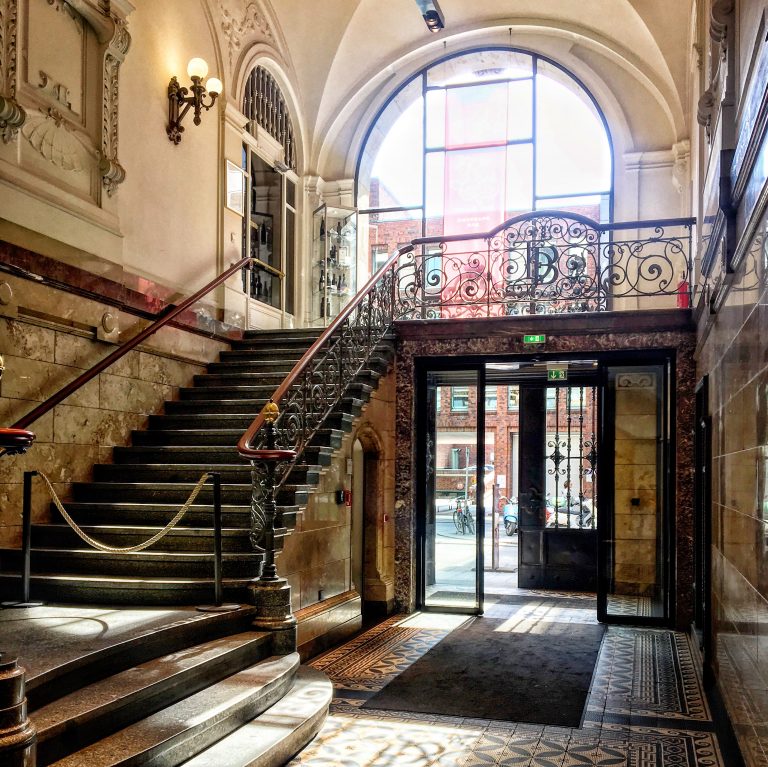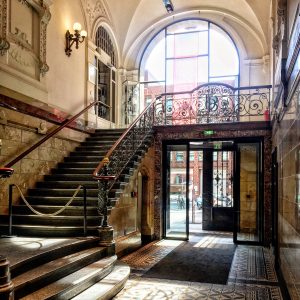 ---
Holstenhof

These tiles are just so beautiful, I had to put them here. There are no noteworthy stories to tell about the Holstenhof, the building in which I discovered them – besides offices you'll also find a grandiose Art Nouveau staircase with ornamental ceramics in this building. I ended here accidentally, and was amazed by the splendour. It's like being on a magic mushrooms trip…
→  Kaiser-Wilhelm-Straße 79-87, 20355 Hamburg / map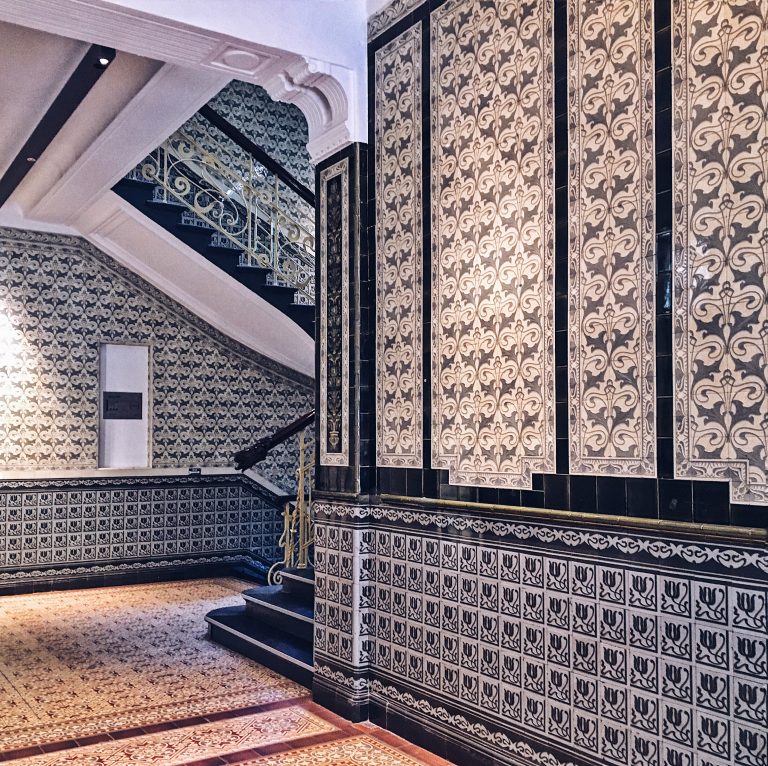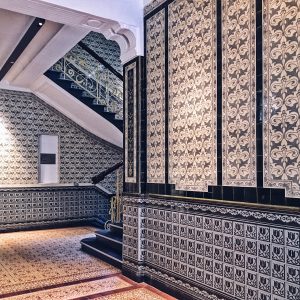 ---
Gängeviertel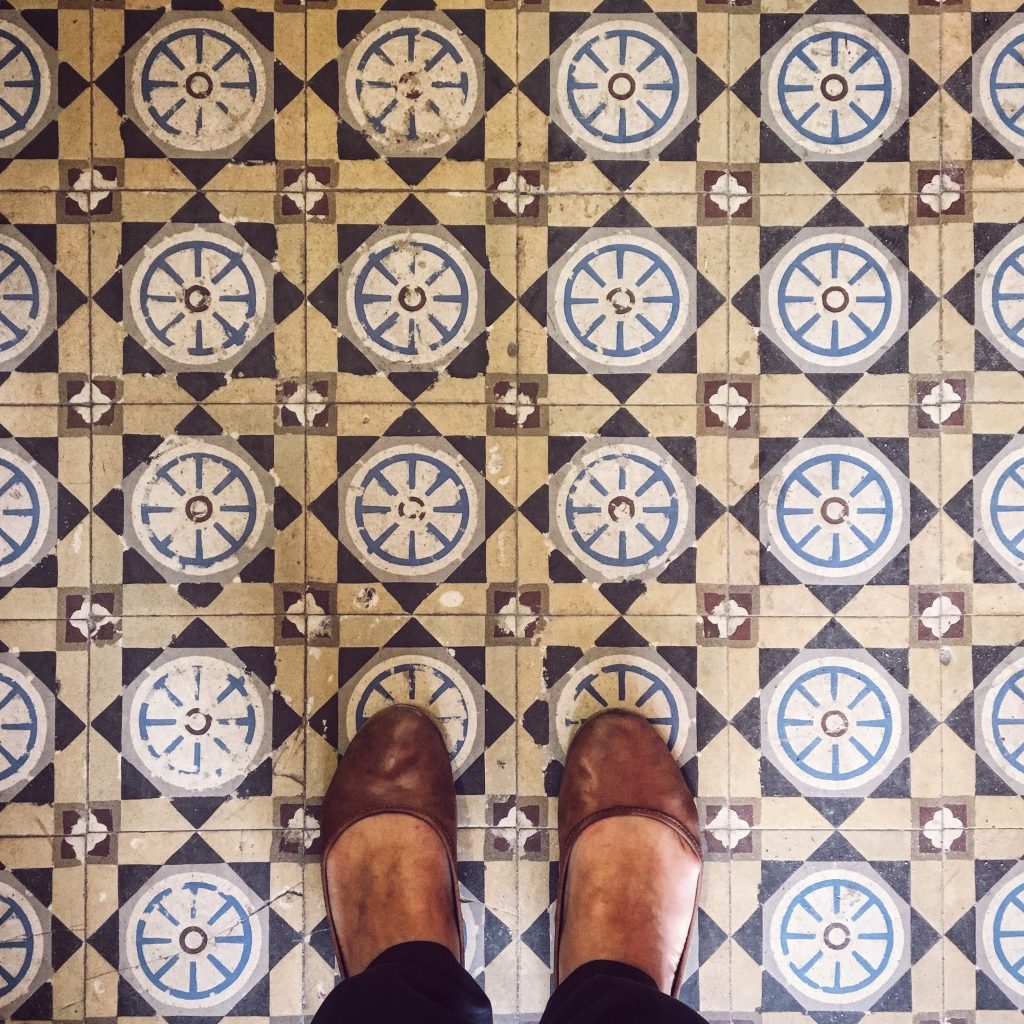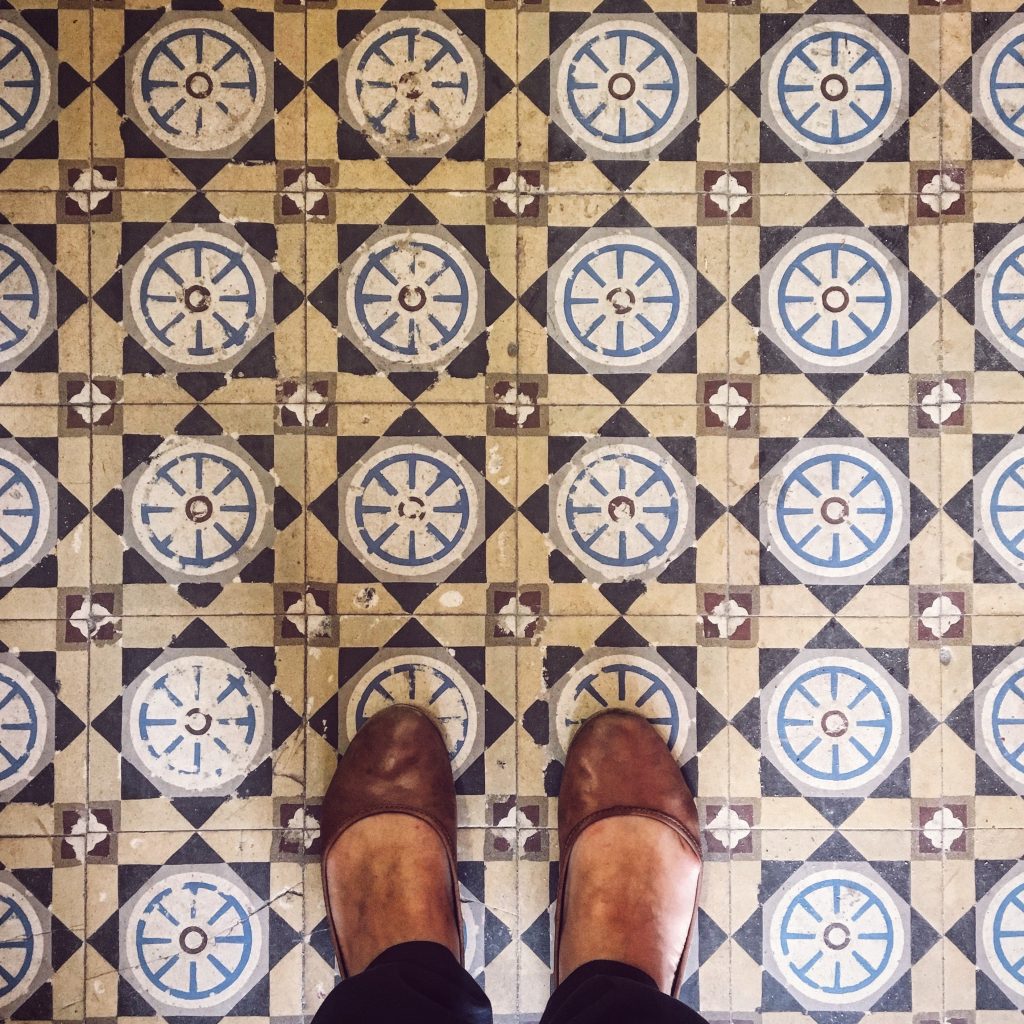 An area "conquered by activists ": That's how "DIE ZEIT "once described the Gängeviertel. I call it a counter-world occupied by unyielding idealists, nn enclave of art and culture that has miraculously survived in the midst of an investor-controlled city centre. This "Shoefie" (Shoe + Selfie) I shot in a house entrance in the Caffamacherreihe.
→ Caffamacherreihe, 20355 Hamburg / map & Website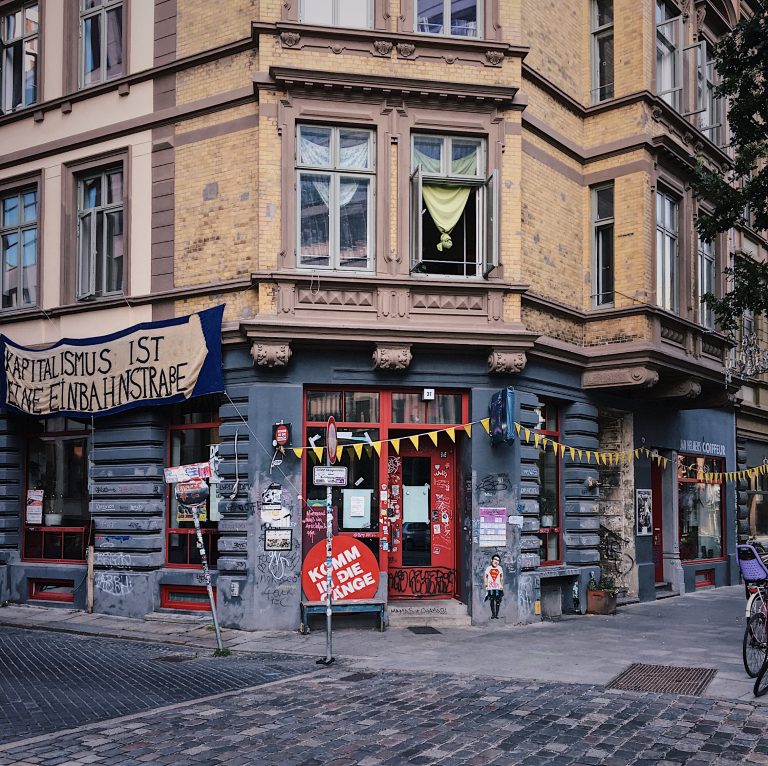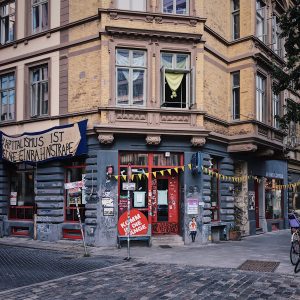 ---
Hildebrand-Haus

Perhaps only a few people who walk along the Neue Wall notice the Hildebrand House. Likewise, the diamonds and pearls from Brahmfeld & Gutruf, in the window of the jewelry store, are a distraction. However, if you go to the opposite side of Hamburg's premium shopping street, you can admire the Art Nouveau façade and whoever enters the interior of the building will be more amazed. The tiles, the fine mosaic floor and the rippling fountain in the entrance hall are the true jewels of the house. 
→  Neuer Wall 18, 20354 Hamburg / map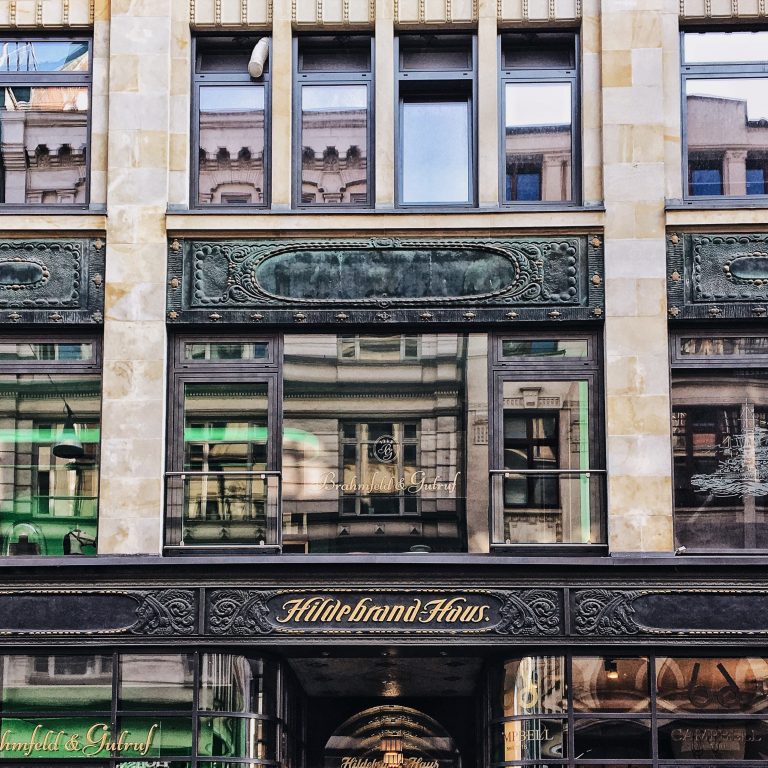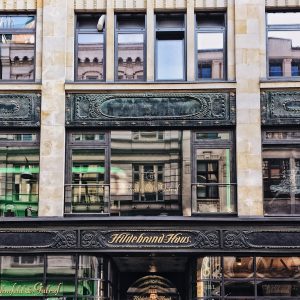 ---
Alpenkantine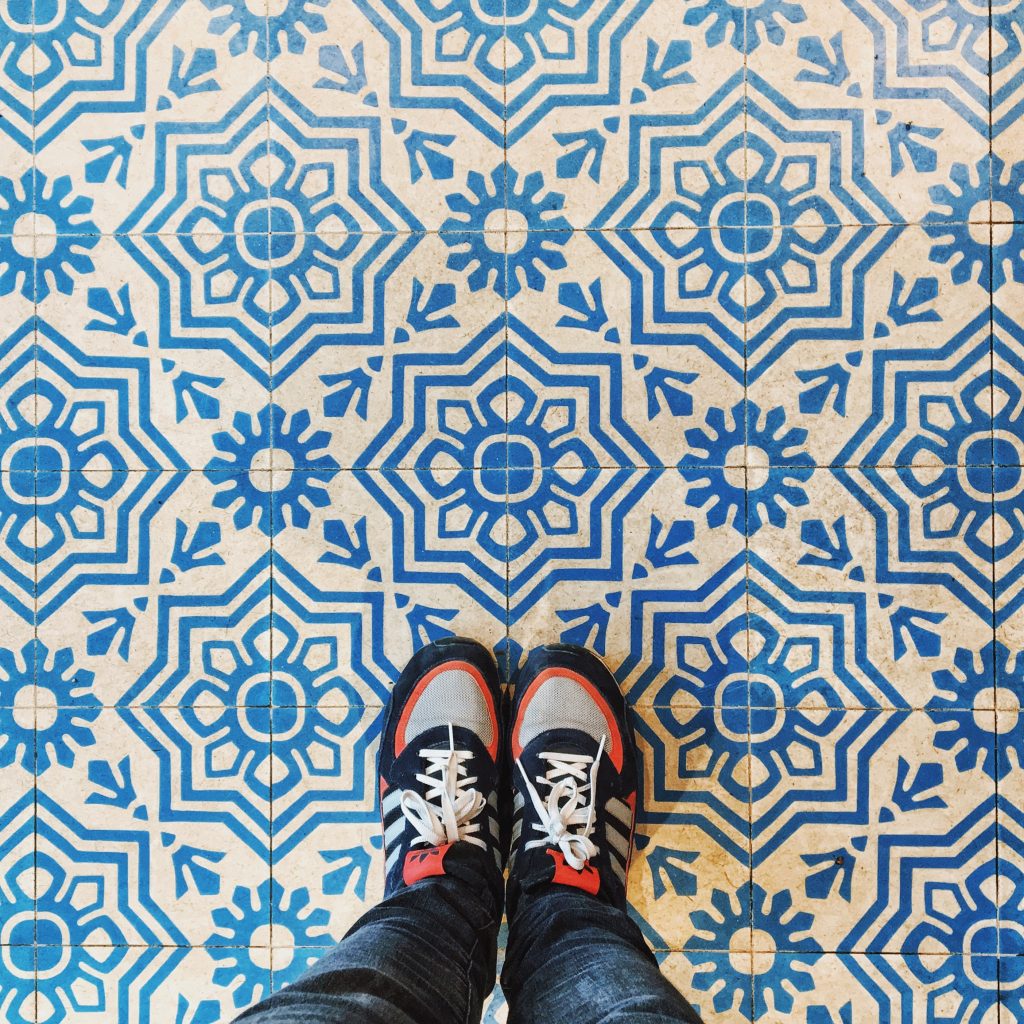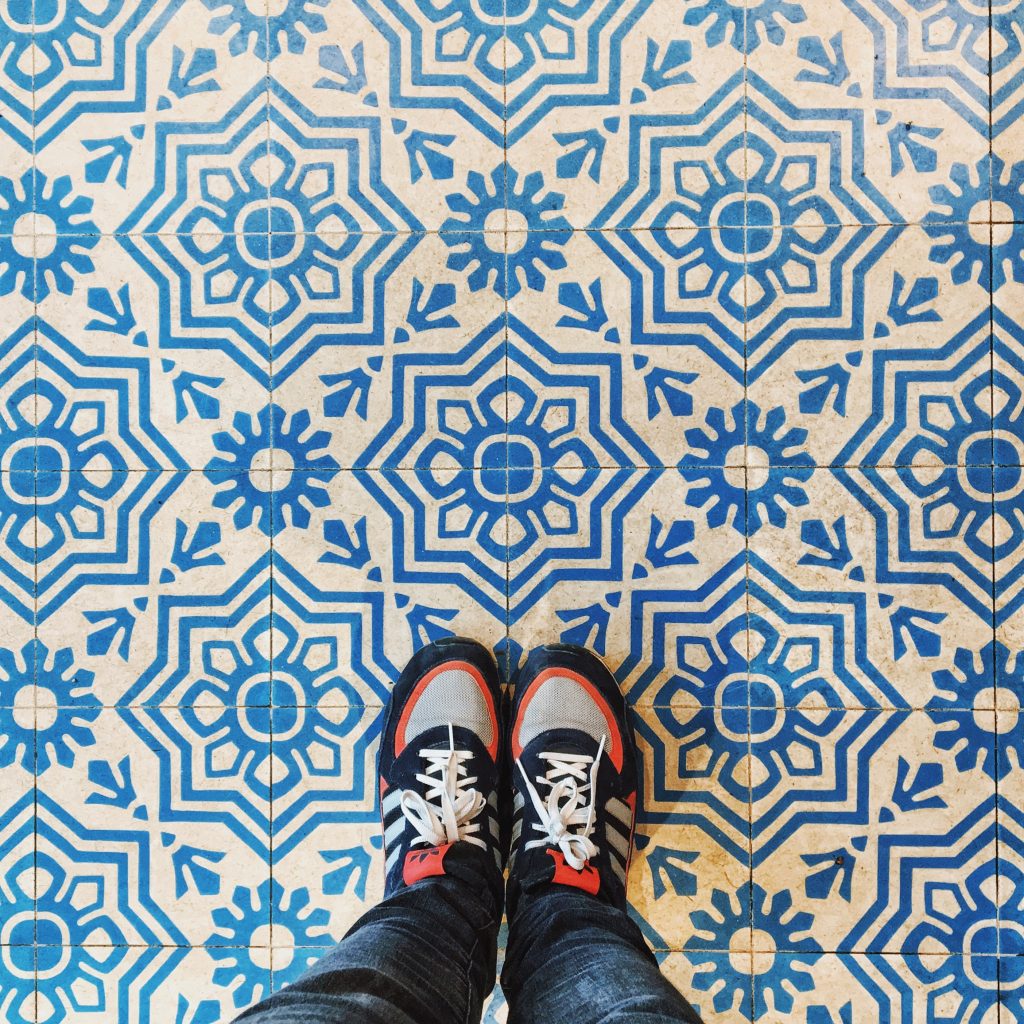 The Alpenkantine in the Osterstraße in Eimsbüttel not only looks great (the concrete counter, the cuckoo clocks and the different chairs !). It also serves great food: a real skier's meal, i. e. everything that is hearty and meant for high energy consumption. But you can also come by bike instead of skiing there.
→  Osterstraße 98, 20259 Hamburg / map & Website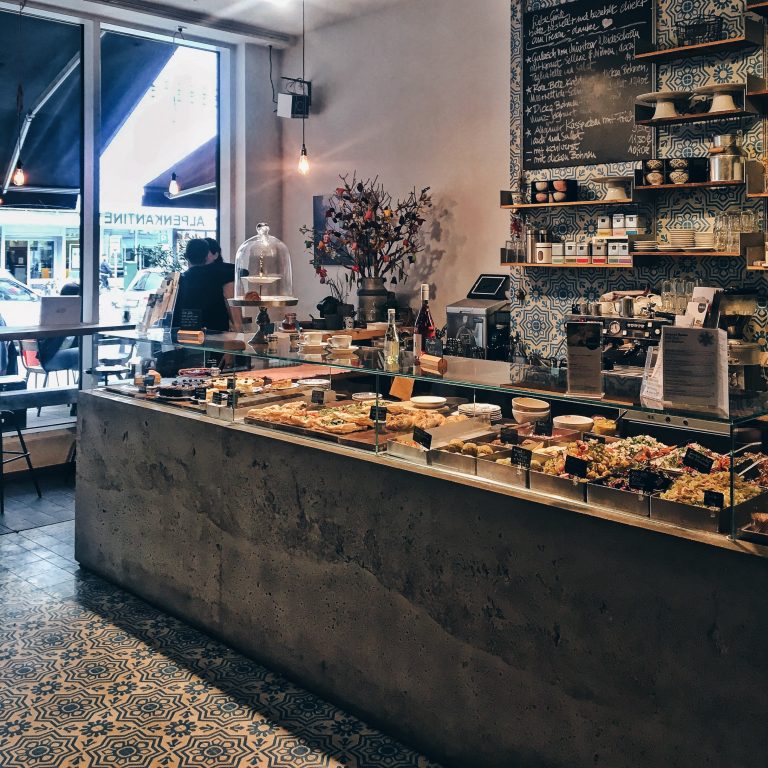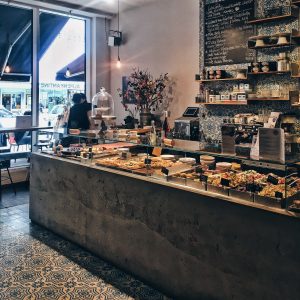 ---
Yu Garden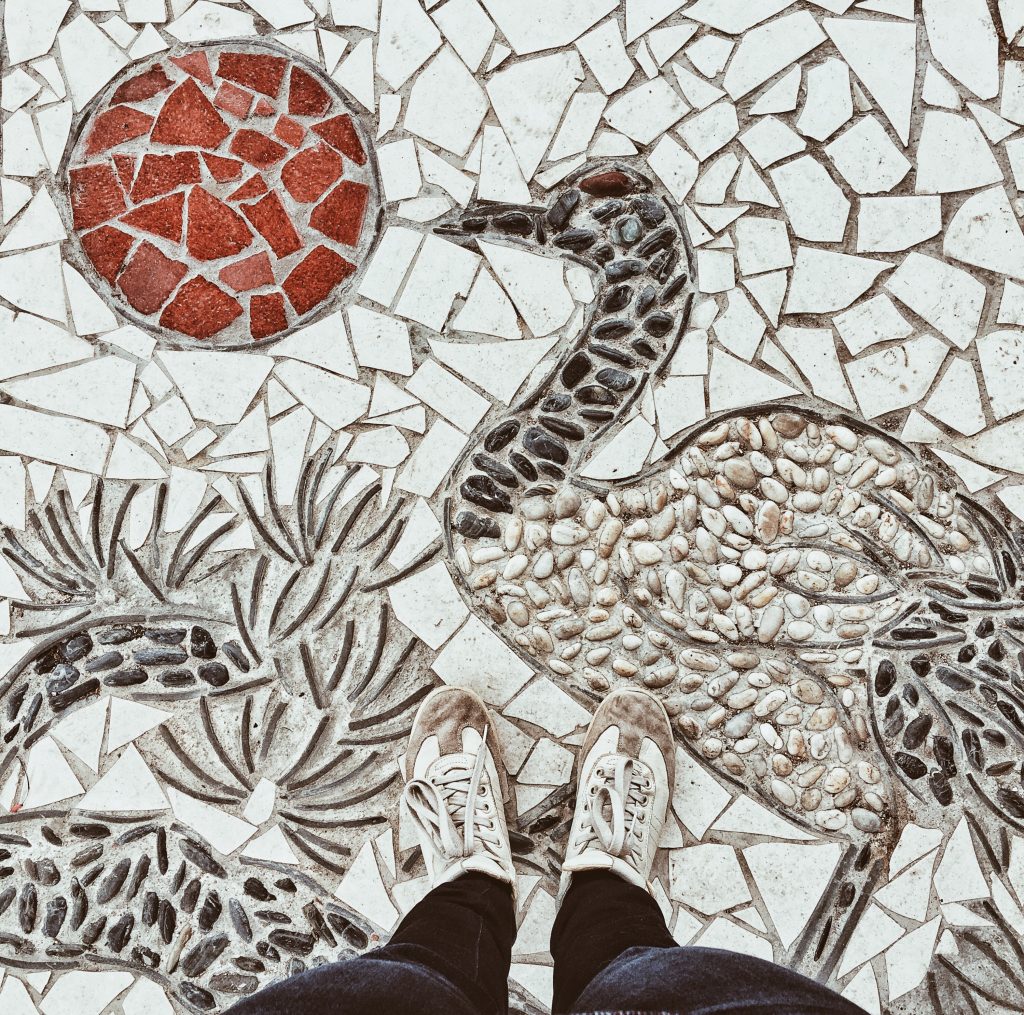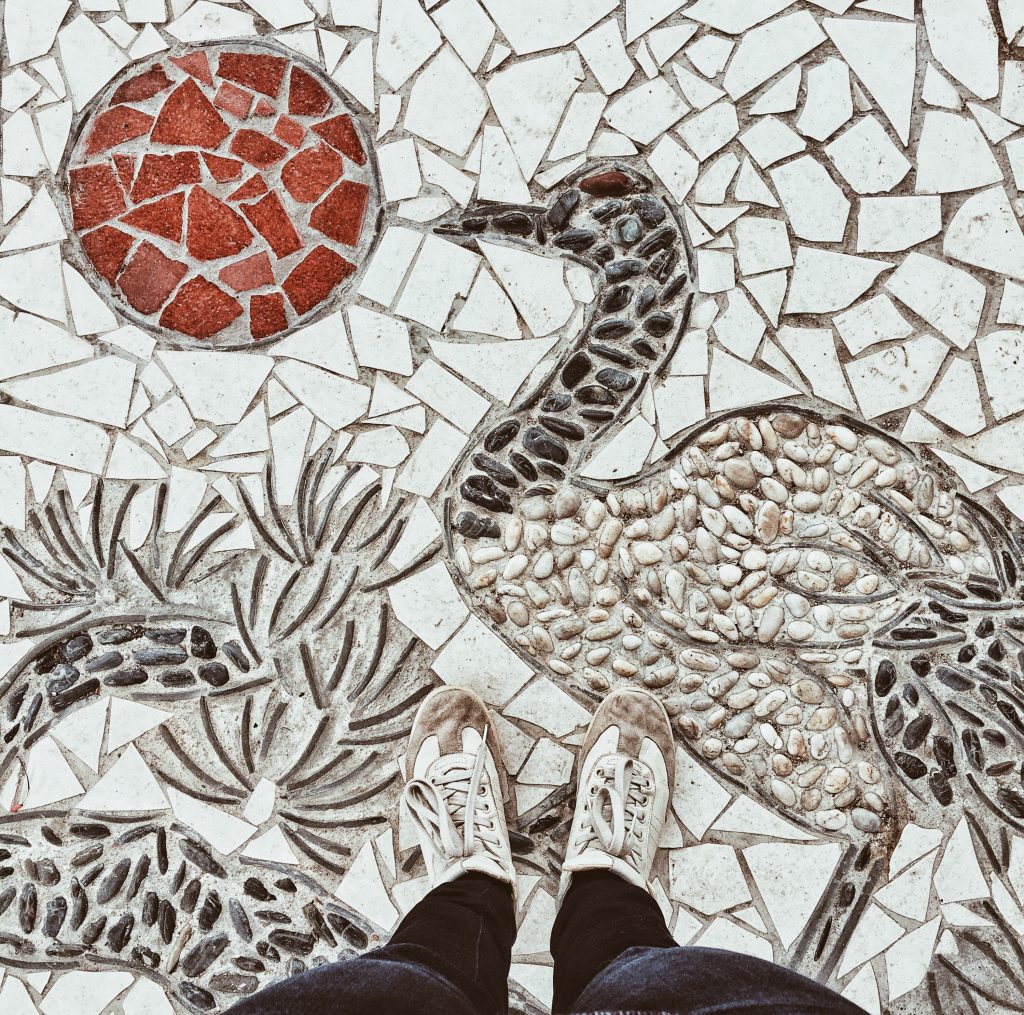 A few hundred meters behind the Ethnological Museum on Rothenbaumchaussee, Hamburg's partner city Shanghai has given us a present: a tea house with a water lily pond and an adjoining event location, which can be rented. A small oasis that makes you forget the big city surrounding you. Who would have thought that the Far East is so very close! 
→  Feldbrunnenstraße 67, 20148 Hamburg / map & Website

—
Do you know my mobile photo safari? 15 photogenic hot spots at Sternschanze, harbour front, warehouse district & citiy centre. Click here!
—