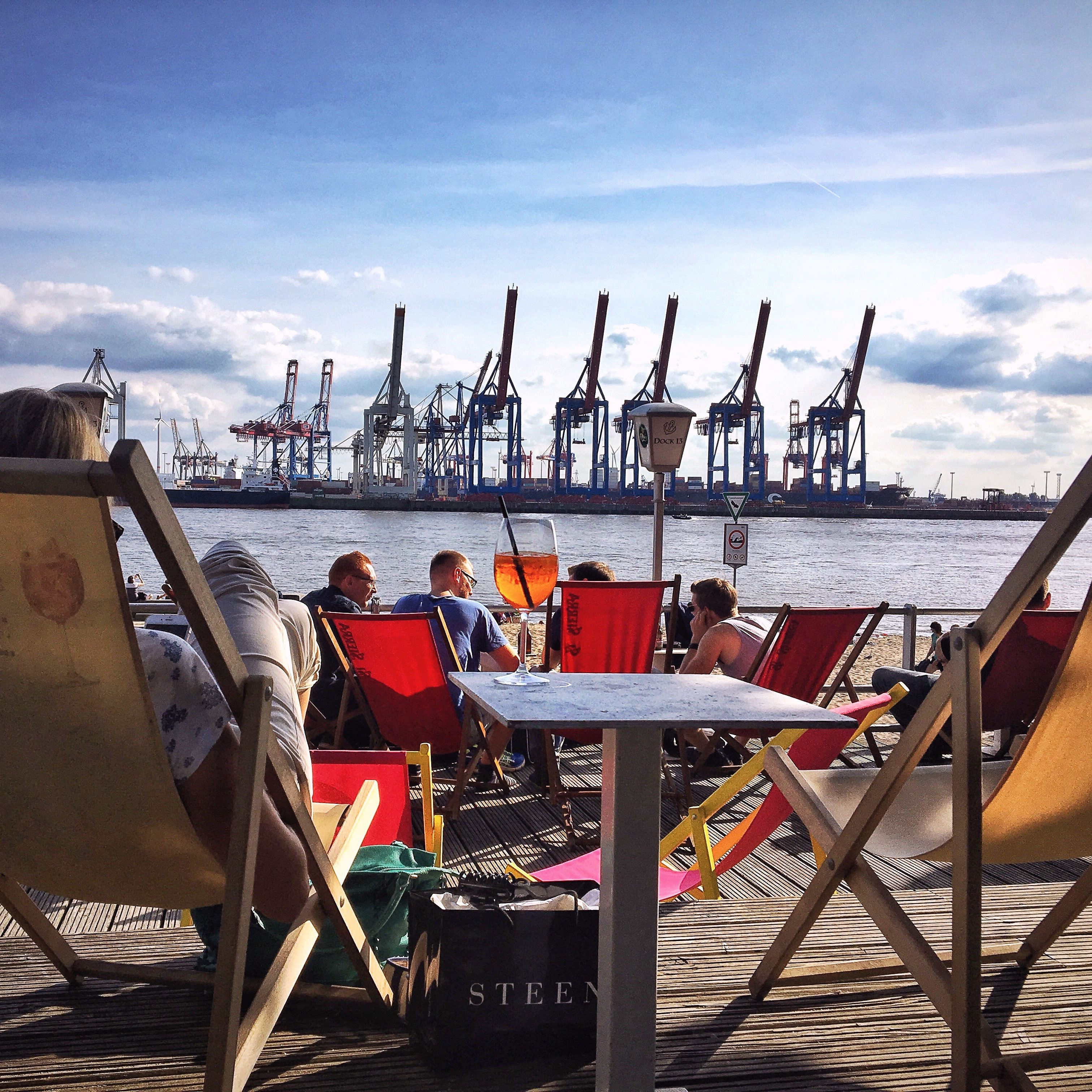 Sitting outside in Hamburg: Cafés & bars that are most beautiful in the sun!
Breakfast outside, a beer on the beach or an Apérol Spritz at sunset? When the weather is fine, Hamburg is unbeatable. Here comes my ultimate hit list: Cafés, pubs, restaurants and bars – not just for North German midsummer night dreams!  
TEXT & PHOTOS: SUSANNE KRIEG
---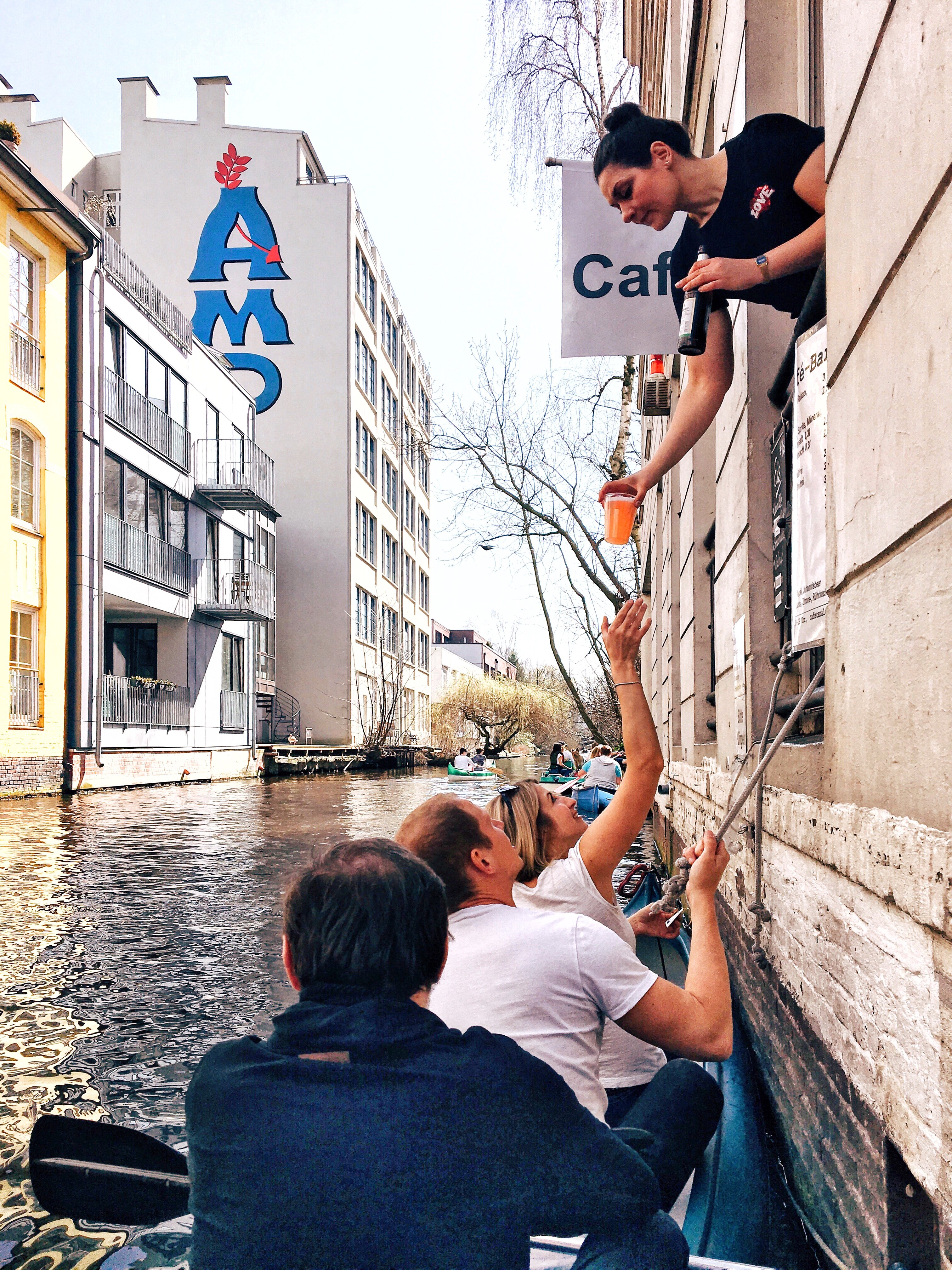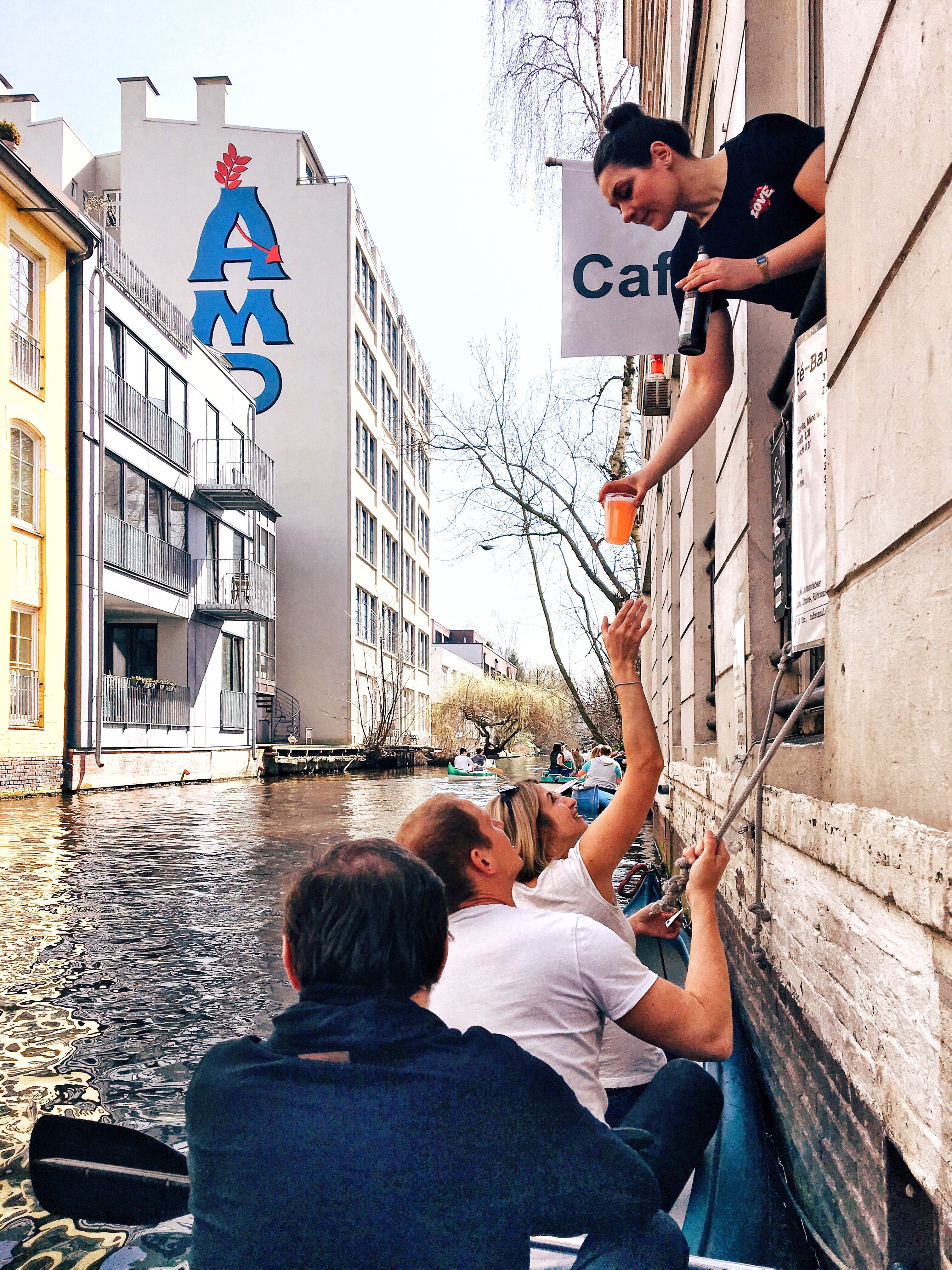 Café Canale I Winterhude
Admittedly, you have to be a bit careful to get one of the ropes in time to pull yourself and your rental canoe close enough! But once you have your provisions on board, you'll be all the happier. At Café Canale just after the bridge Pölchaukamp in Winterhude everyone who is on a rented boat should stop. McDrive de Luxe with paddle and waves – where can you order plum cake, ice cream and beer more stylish from the water? Canoes for rent at Dornheim at Kaemmererufer.
→ Café Canale: Website,  Google Maps 
---

Entenwerder 1 I Rothenburgsort
Since 2015, this ponton café behind the Elbe bridges has been a great place to relax and enjoy the view of the Northern Elbe. Even a few dramatic clouds in the sky can't really disturb you (at least not if you come from Hamburg). In Entenwerder 1, a café on two discarded shipping containers, you can get beer from local creative brewers, breakfast, lunch and cake. In summer also barbecue sausage and sun loungers on deck. The view with a touch of industrial charm is available all year round.
→ Entenwerder 1: Website, Google Maps 
---

Dock 13 I Övelgönne
The beach bar Dock 13 belongs to the Altes Lotsenhaus, which was founded in 1745 by the pilot brotherhood. To this day, the pilots' task is to transfer boats to ships arriving and departing on the Elbe in order to guide them safely up. Today, the half-timbered house in a prime location on Övelgönner Strand serves traditional Hamburg cuisine. If the weather is fine, the bar in front of the restaurant also opens. With an aperitif in your hand and lounge music in the background, you can watch the slowly passing ships in front of the container port – and imagine that you are in Barcelona or Marseille.
→   Dock 13: Website, Google Maps 
---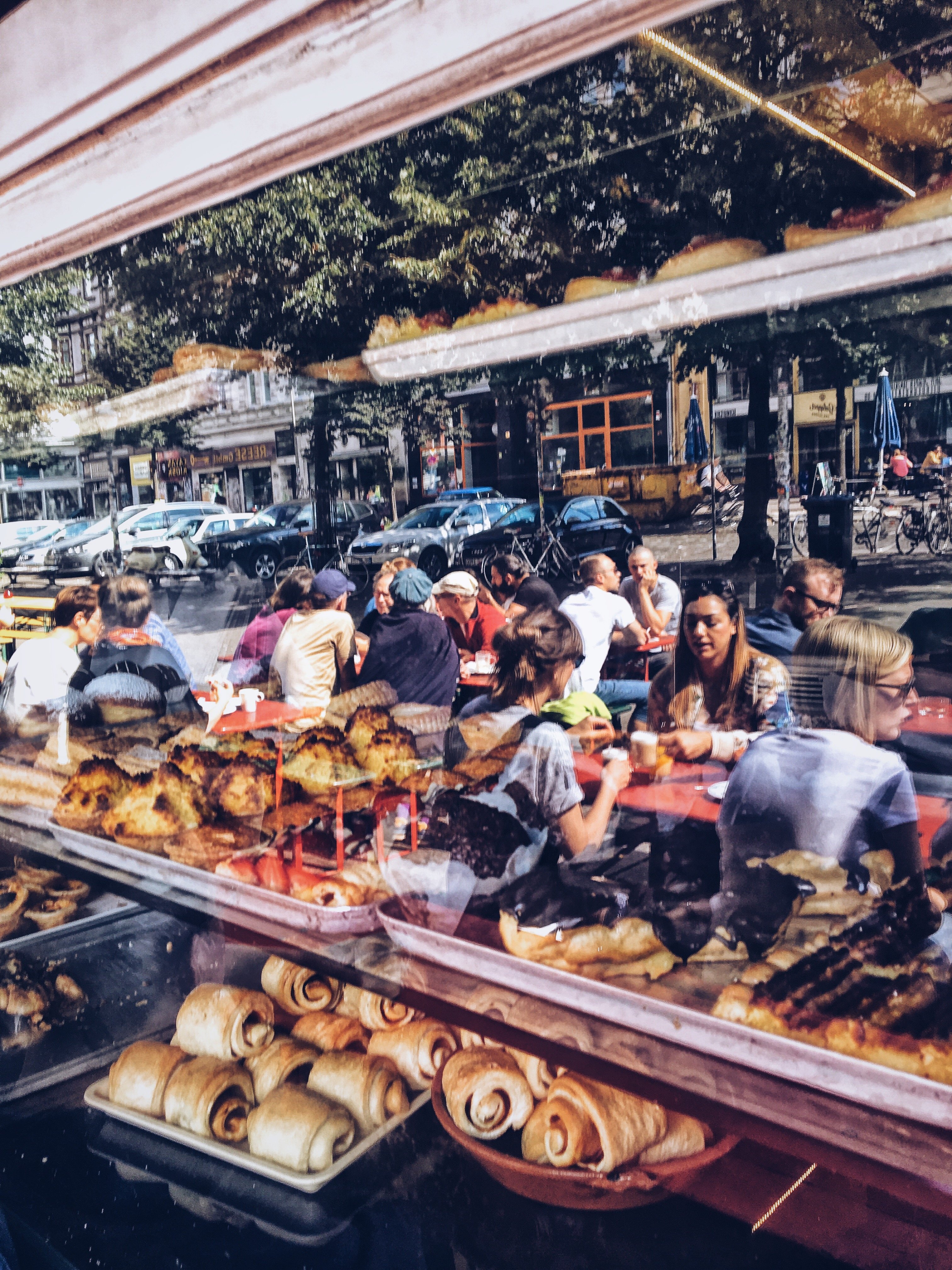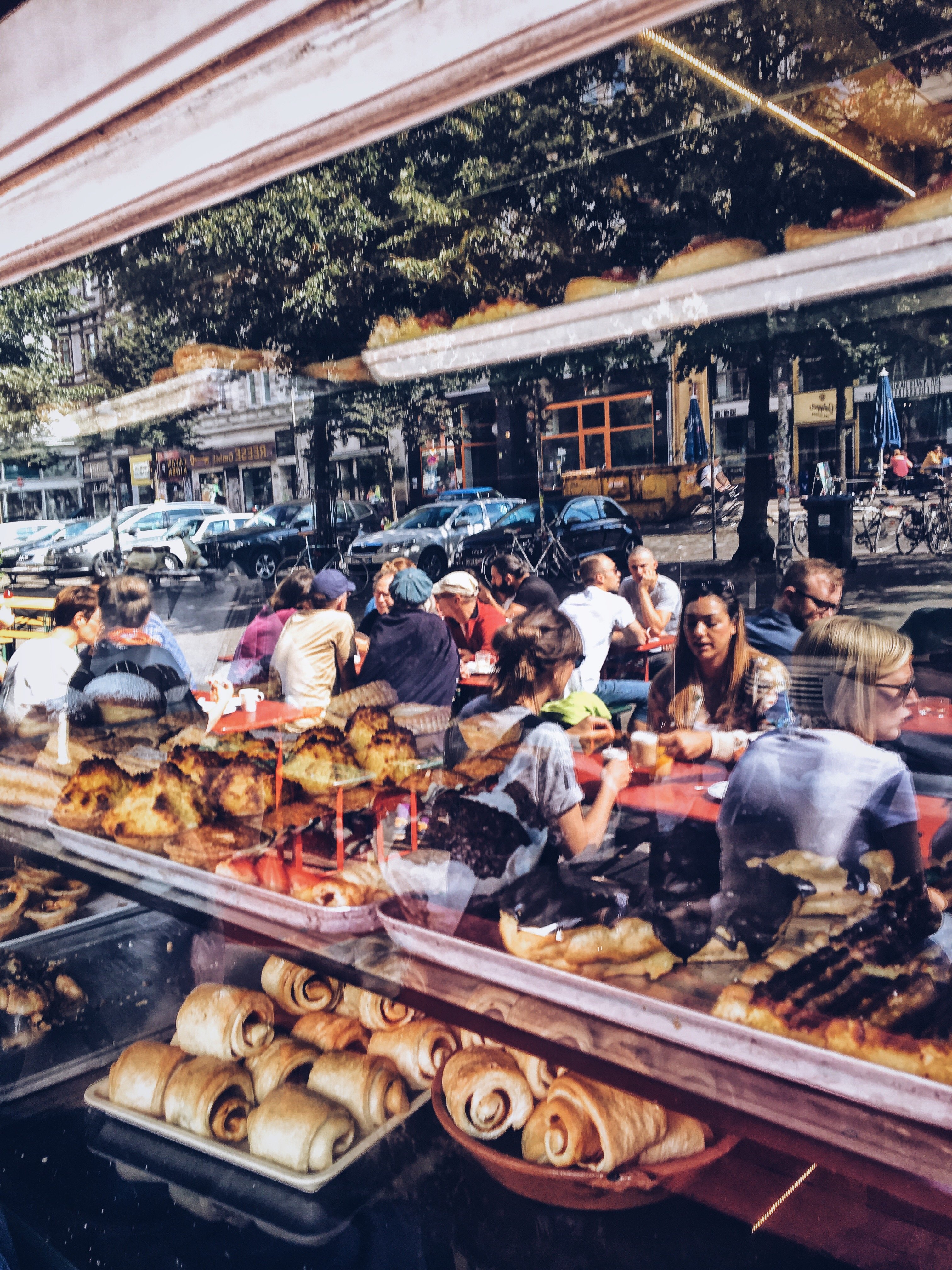 Transmontana I Sternschanze
I already mentioned the Transmontana in my tips for a perfect weekend in Hamburg. In this old-established family business in the heart of the Sternschanze you can drink excellent Galao, as the Portuguese version of an espresso with frothed milk is called. This drink also gave the sidewalk in front of the cafe the name "Galaostrich" ("auf den Strich gehen" means "to hustle" in German ;-)), because it is very crowded when the sun is shining. Don't forget to try the fantastic scrambled egg dishes and sweet Pastel del Nata from our own production.
→  Transmontana: Website, Google Maps 
---

Sein I Altona-Altstadt
Sein is a café and restaurant with a special affinity for good bread and home-made food. Located in the yellow brick complex of the former Altona hospital behind Max-Brauer-Allee, you'll find the community centre Haus 3 and the beautiful August-Lütgens-Park right next to it. Do some wonderful chilling under trees & have an organic beer with it.
→ Sein: Website, Google Maps 
---

Strandperle I Övelgönne
The Strandperle is the undisputed queen among the beach bars of the city. Here at Övelgönne beach tlocals and their guests sit with sun and wind, slurping lemonade and beer, eating sausages, fish rolls and potato salad, watching freighters and pilot maneuvers. And we often wonder how you can actually only bear it elsewhere in the world. Meanwhile, we even go swimming again – the water of the Elbe is cold, but clean enough. If you don't fall head over heels in love with Hamburg here, something is wrong with you. 
→ Strandperle: Website, Google Maps
---

StrandPauli I St. Pauli
A little bit of Caribbean feeling, with harbour views and cranes instead of palm trees. Okay, the sand's piled up. But when the sun goes down, when the DJ at the turntable gives his best and the lanterns and torches glow, you start to feel like at Club Tropicana. And, hey, this short holiday is well deserved! 
→ StrandPauli: Website, Google Maps
---

Where sitting outside in Hamburg is also fun:
on the steps to the Alster at Jungfernstieg
in the city park of Winterhude
at the Wohlerspark in Altona-Altstadt
at night at Susannenstraße in the Sternschanze
on the sidewalks at the Neuer Pferde Markt (St. Pauli / Sternschanze)