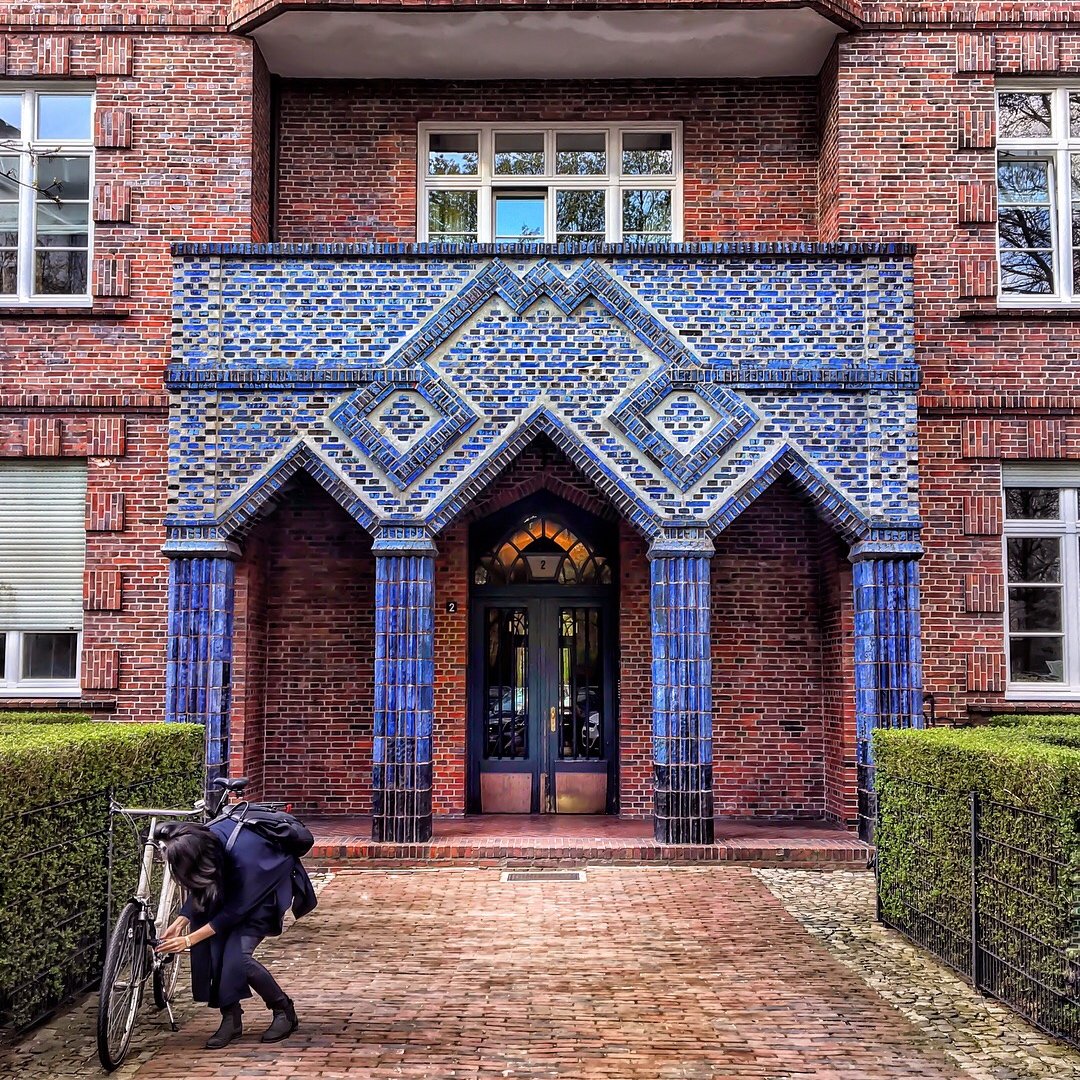 Hamburg brick architecture: 12 highlights made of beautiful clinker
Hamburg is a red city. Brick architecture dominates the scenery in many places. I can hardly think of a metropolis that knows how to put bricks on top of each other in such a creative way – for centuries. Ready to go on a small tour?
TEXT & PHOTOS   SUSANNE KRIEG
---
Chilehaus
Let's start with an absolute classic of Hamburg brick architecture: the Chilehaus (map), icon of the so-called clinker expressionism, completed by Fritz Höger in 1924. The patron of this building was a rich shipowner and banker called Henry Sloman. He had paid the construction with money from his saltpetre business in Chile. With the 4.8 million Bockhorner bricks (which Höger also lovingly called "building diamonds") and a tip that protrudes like the bow of a big passenger ship into the sky, the building was declared a World Cultural Heritage in 1984.
---
Stubbenhuk 10
Under this cute name we locals know another office building near Baumwall (map), which was built between 1923 and 1925. It was also called the "grain lifter's house" (the owner was the grain lifter's company). The brick used here is red and brown clinker from a city called Oldenburg (I know, this is a bit nerdy now … but it is quite interesting, where all the bricks come from!). Also the stairwell is worth seeing – the door is usually open on weekdays!
---
Planetarium
Sometimes, in gloomy weather, the planetarium in the city park (map) makes me a bit afraid. But this also has its charm. The building looks like a colossus of a 1920's silent movie. But if the sun comes out, the lettering of the brick shines golden, and the colossus seems to blink. Come on, it says, I know you want to go up again and ejoy the grandiose view! Unfortunately I rarely have time – but once in a while I make it to the top…
---
The old Thede-Pool
At the northern end of the Thedestraße, at the corner of Covertsweg (map), stands a protected ensemble built in 1882 – another wonderful example of Hamburg brick architecture. It used to be a swimming pool for needy working-class families. Today, the artist Bruno Bruni converted it into a studio as well as office space for agencies.
---
The Patriotic Society
Potato cultivation, bookshelves, lightning conductors – these are just some of the achievements that Hamburg owes to the Patriotic Society, Germany's oldest civil society association. Since 1847, its seat has been in a building on the Trostbrücke (map), which reminds me of a fortress. Some of the bricks are older than the house: they date back to the time of the devastating Great Fire of 1842. They may have belonged to the old town hall, which had stood here before.
---
Warehouse District
Do I have to say more? The Speicherstadt (map) is the ultimate building complex made of brick. A Grand Canyon of red clinker. For all brick fetishists like me this place means big emotions. Please, have your smelling bottle at hand – in case you faint because of an overdose of happiness.
---
Gorch Fock Hall
It is a hidden treasure on the "other side", in Finkenwerder (map): Designed in 1929 as a gymnasium by Fritz Schumacher, the father of Hamburg's brick architecture, the Gorch Fock Halle is dedicated to Johann Wilhelm Kinau, son of a Finkenwerder fisherman. Under the pseudonym Gorch Fock, Kinau wrote, for example, the novel "Seefahrt ist Not", which is why a sailing school was named after him. The writer died in 1916 during the First World War in a sea battle in the Danish Skagerrak Sea.
---
Altona Children's Hospital
One of the most beautiful hospitals I know: The Altona Children's Hospital was built in 1912 and financed by Henry Donner, another immensely rich Hamburg merchants (yes, there were many of them …). Before that, the children's hospital was located in Chemnitzstrasse in Altona's old town. The much larger successor in the Bleickenstraße was regarded as progressive: here, for the first time, there was a milk station for poor families as well as a home for orphaned infants. (map) 
---
A House in Kottwitzstraße
My favorite house in the Kottwitzstraße in the Eimsbüttler Komponistenviertel  A particularly ornate specimen of Hamburg brick architecture. But because of its style, I think, you could also find it in Lisbon (map).
---
Bei St. Annen 1
This building looks like a second town hall just for the Speicherstadt. And I guess, that was intended! It is no surprise that Hamburg's Freihafen-Lagerhaus-Gesellschaft, who moved in in 1912, was the most modern logistics center in the world at that time. The company managed the port of Hamburg and wanted to demonstrate its power with this new administration seat. Mission accomplished! (map)
---
Deichstraße 
What a crooked façade! And these lovely blue doors and lamps! I'm in love. With Hamburg's oldest storehouse. It is said to have been in the Deichstraße since 1465 and could thus be one of the oldest surviving examples of Hamburg brick architecture. This house has already stored a whole lot of goods: e.g. silk, linen, cocoa, spices, fruit and vegetables from Lüneburg … Please, is there still room for me? (map)
---
Haynstraße
I like to call it the "blue wonder" from the Haynstraße in Eppendorf: It is just a normal apartment house, which unfortunately I do not have any more information about. (map)
—
Do you know my mobile photo safari? 15 photogenic hot spots at Sternschanze, harbour front, warehouse district & citiy centre. Click here!
—